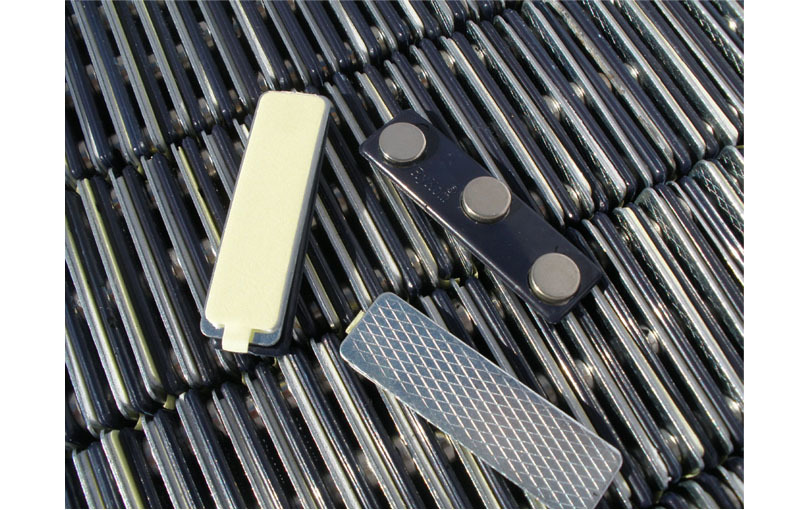 Magnetic name tags are essential when it comes to identification. There are also a number of tags but they are made from different materials. Some of these materials used for name tags are: plastic, metal, and much more. You need to find the one which suits your taste and is very durable. The different types of name tags all have their own advantages and disadvantages. By weighing both of these qualities with your needs, you will be able to find the ideal one for you.
Reusable magnetic name tags are very convenient because they could be put on and be removed easily. You neither have to deal with pins nor do you have to worry about them falling off. Many name tags come with a pin on the backside which you have to fix to your pocket area. In such situations, you may get hurt or bend the pin and may get stuck in your pocket. All of this can create a lot of stress especially when you're in a hurry to get to work.
Magnetic tags don't have any such problems. Each tag comes with a magnetic bar and a steel plate to hold your name tag together. This makes them highly convenient for everyday use. You can get these magnetic tags in a variety of colors too from blue, green, golden, black to white and even purple. Depending on the preferences of your company (if there are any), you can choose them accordingly. Most of the name tags are rectangular in shape, but you can choose from a number of different sizes.
The magnetic piece of the tag holders is what keeps your name tag in place. You can just place your name tag outside your pocket as you place the magnetic strip inside your pocket against the name tag. The magnet attracts the metal and holds your name tag perfectly in place. In case you are in a hurry, you can just snap on your magnetic name tag on your chest on your way.
The Benefits of Using Magnetic Name Tags
Name tags have been utilized within the service industry and other types of businesses where customer service is imperative for years and years. Having a name tag not only identifies employees, but it also helps the consumer feel like they can comfortably approach and talk with a team member. Knowing someone's name is a very powerful asset to have, especially when a customer has a problem or question and they may feel intimidated when asking for help. The construction and makeup of name tags have changed somewhat over the years. Regular pinned on tags are still widely used, however, name tags in magnetic forms are growing in popularity for a number of reasons.
Using traditional name tags made from flimsy plastic that pins to the wearer's shirt can give off the impression that the company is not that invested in the image of their business. A benefit to using the magnetic type of name tags is the quality being offered by leading name tag manufacturers today. The aesthetic advantage to using these types of newer name tags really shows the consumer that the company not only values the image and appearance of their employees but that they have an interest in the employees themselves. This can also make workers feel appreciated as well and it has been said that 'a happier employee can lead to happier customers.'
Another benefit to employing such name labels is their ease of use. If you have ever used a pin back name tag, you more likely than not have been pricked by the sharp end when putting it on. Not only have you probably been jabbed by the pin, but the holes that are put into your shirt can eventually accumulate and possibly damage the structure of the piece of clothing. Depending upon the manufacturer, a magnetic name tag simply uses two or three magnets attached to a bar on the inside of a shirt and this, in turn, connects to the name tag utilizing the same amount of magnets on the other side. There are no holes or accidental pinpricks as a result of using this type of tag.
There is no need of having piercings and ugly holes in your cloth that will make you look like you were handling a stray cat. If the magnetic name tags you are eyeing are creatively designed and look suitable depending on use, I would suggest you get them.
Many employees abhor the idea of wearing a name tag mainly because of the type of backing used. Pin backs are the most widely used back types simply because many people do not have an idea that there are actually alternatives. The magnetic ones are very strong and come with steel strips that will hold the tag in place. The most obvious reason to choose the magnetic back system tags is that they are safe for the wearer since there are no sharp objects involved. There are many accidents that have been treated that resulted from the use of pin name tags.
If you or the company you are employed with are considering changing from the name tags utilizing pin backs and fragile plastic to magnetic ones, it should be plain to see why this choice could greatly benefit the business. If your company or business happens to employ photo IDs as part of a name tag, magnetic bars may be purchased as separate entities and can be used for this type of identification as well. Either way, it is quite plain to see how using magnets in lieu of pin backs has many advantages and benefits. There are a number of things you have to consider when choosing name tags, whether magnetic or any other types. These include how appealing or attractive the name tag is, reliability, intended use, durability, cost, and design creativity.
Magnetic Name Tags and Badges Can Enhance Your Business Image
Using unique magnetic name tags and badges is one way to make your business a memorable one. Many people in this current economy are looking for ways to set their business apart, and outfitting your employees with interesting badges can be one of many ways to do that. Of course, this is completely secondary to building a business that is customer satisfaction based. Without that, no identification badge in the world can improve your bottom line.
New businesses starting out might want to brand themselves by using name badges that incorporate their logo. This presents a look of all employees being on the same page and can fix the branding in your customer's mind.
But is there a better way?
I think so. One of the most important things in any relationship-based business (and what businesses don't have some aspect of this?) is to get your customers to open up to you. Communication is the key to creating a lasting connection to your clients. Here are some hints on how to improve in this area:
o A front office space that is aesthetic and welcoming.
o Friendly front office staff knowledgeable in putting people at ease
o Name badges that invite comment
I know that last point may sound odd to you, but believe me, it can make a big difference. Here's a scenario to consider:
Mrs. Brown: "I'm interested in finding a house in the Greenville area at a price I can afford. Do you think you have anything currently available?"
Receptionist: "I believe so. Would you like to have a seat? Ms. Duncan is very familiar with that area and will be free in about twenty minutes. Can I get you a cup of coffee?"
Mrs. Brown: "That would be lovely. By the way, where did you get that adorable name tag?"
Receptionist: "Isn't it cute? This little dog on it looks just like my Chihuahua named Maxie..."
An interaction like this turns a rather formal beginning conversation with a potential customer into a personal, friendly exchange. It gives both the receptionist (the representative of your business) and the potential new client something to focus on and discuss while waiting for the realtor to appear. It creates a warm and comfortable environment. All around, a good situation!
A clever name tag certainly won't rescue a failing business, or turn you into an overnight millionaire, but it may contribute to a memorable office, clinic or business atmosphere. I have a thing about friendly environments; I think they breed more customers and the more customers you develop, the better the word of mouth, the more customers and so on. Who knows how far this can go?
You can look for more options online. There are so many websites out there which deal in name tags. One of such is https://nametags-floridabadges-com. You can choose from the different materials, sizes, colors, and design to find the perfect one for you. If you're looking to buy some in bulk, you may come across some insane discounts. So watch out for cool offers when browsing. Magnetic name tags not only provide convenient functionality but they also impart a certain professional look.